Michelle's Books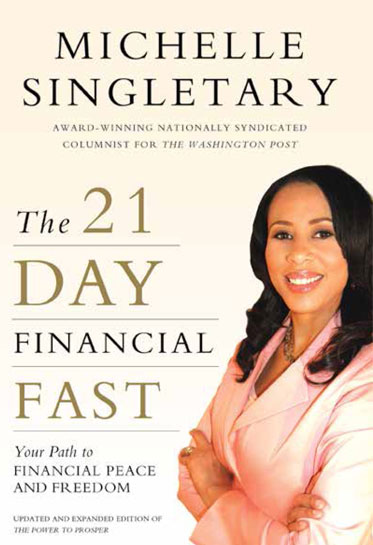 "The 21-Day Financial Fast: Your Path to Financial Peace and Freedom" - Order Now!
In her book, "The 21 Day Financial Fast," award-winning writer Michelle Singletary has a field-tested financial challenge for you. For twenty-one days, you'll put away your credit cards and buy only what you need for survival.
With Michelle's guidance during this three-week financial fast, you'll discover how to:
Break your spending habit
Handle money with your significant other or your spouse
Break your bondage to debt with the Debt Dash Plan
Make smart investments
Be prepared for any contingency with a Life Happens Fund
Stop worrying about money and find the priceless power of financial peace
As you discover practical ways to achieve financial freedom, you'll experience something even more amazing: your faith and generosity will increase, too.
Order Now!
"Spend Well, Live Rich: How to Get What You Want with the Money You Have"
— Available in hardcover, paperback, tape and CD!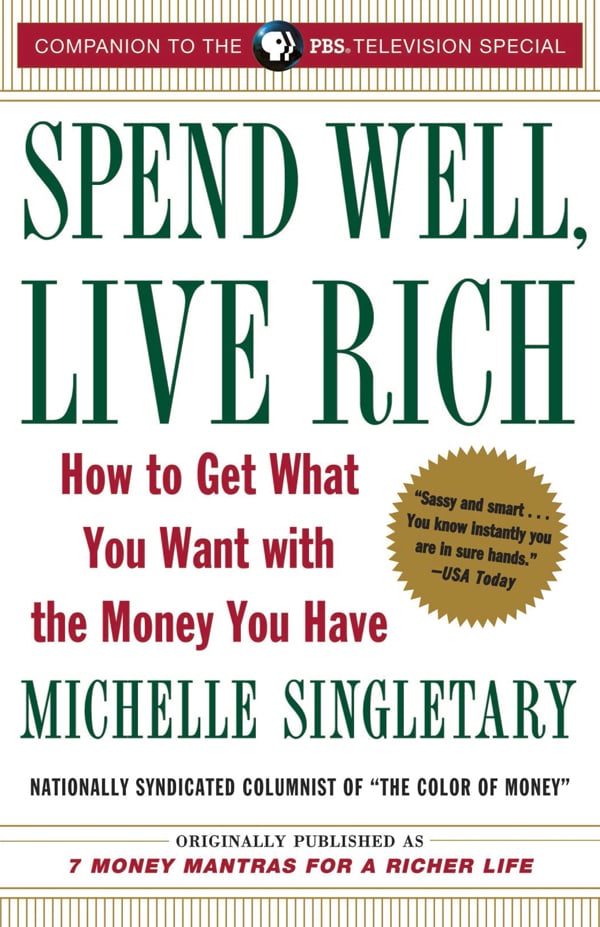 The best financial plannerMichelle Singletary ever knew was Big Mama, her grandmother. Big Mamaraised Michelle and her four brothers and sisters on a salary that neverreached more than $13,000 a year. Yet at her death, Big Mama owned herown home, had paid off a car loan and had a beautiful collection ofSunday-go-to-meeting church hats and a savings account that supplementedher Social Security check and small pension. Most important, she hadtaught Michelle "7 Money Mantras for a Richer Life." Those mantras serve as the inspiration for this straight-talking book of practical personal financial advice that really works.
Michelle is a syndicated columnist for The Washington Postwhose popular personal finance column appears in more than 120newspapers. She's also a mother of three children who understands whatit's like to live on a budget. In a plainspoken, sassy, no-nonsensevoice, Michelle provides answers to the financial issues that confrontalmost every household: how to teach children the value of money; how toaddress money issues in a relationship or marriage; household savingtips; getting the best loans; and much more.
Customer Review
"I enjoyed this book so much that I purchased it for all the young people in my family. I wanted them to be able to make sound financial decisionsand not become a member of the "working poor." This book has the toolsthat will help them accomplish that goal. The information is sound,concise and to the point. Told with enough humor to get your attention,but serious enough to underscore the fact that it is not 'just money.'"
-- Marie (Manchester, N.J.)

Order Now!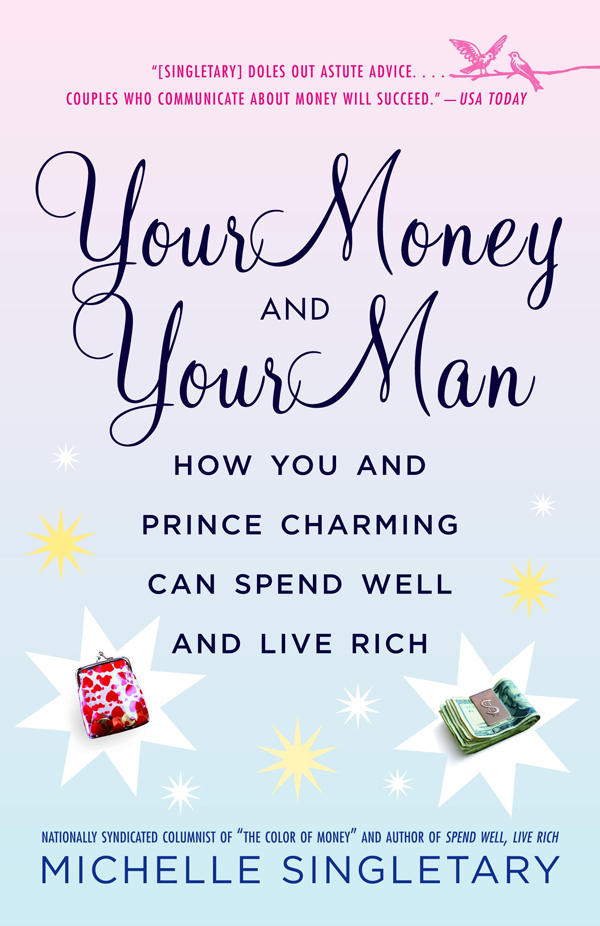 "Your Money and Your Man: How You and Prince Charming can Spend Well and Live Rich"
Now available in paperback!
Look out for Michelle Singletary's book "Your Money and Your Man: How You and Prince Charming Can Spend Well and Live Rich," which hit stores on January 31, 2006. In it Singletary guides women on how to manage, plan and invest their finances. She breaks this information down by age (what to do in your twenties, thirties, forties, fifties…) and by stage of romantic relationship—what not to disclose on the first date, when to come completely clean about your financial history, how much to spend on a wedding and when to start saving for college and retirement funds.
Singletary covers this wide range of issues and also addresses the emotional aspects of money's role in a relationship. She acknowledges that most fights about cash are usually about something else, and stresses the value of open dialogue. Using her professional experience as a financial guide and personal knowledge as a wife and mother, "Your Money and Your Man" is a manual of eye-opening advice that reads like a conversation with an informed friend.

Customer Review
"Singletary is a …a font of no-nonsense financial wisdom, much of it dispensed in the name of Big Mama, the grandmother who raised her. The book is bursting with excellent and clear instructions for women both single and coupled on everything from budgeting to investing to handling taxes…Taking Singletary's advice does require a grain of salt. Some readers may be turned off by her frankly Christian outlook, with scriptural quotes throughout. And some of her rules, summed up at the end of each section, seem more like moral judgments."
-- Anya Kamenetz, The Washington Post

Order Now!
Color of Money Book Club
Want to know which personal finance books to read? Join the Color of Money Book Club. To become a member all you have to do is read the recommended book then join Michelle Singletary

live online every month for a discussion about the book.

2015 Color of Money Book Club Selections
January



A new year brings a new '21-Day Financial Fast'



"The 21 Day Financial Fast: Your Path to Financial Peace and Freedom" by Michelle Singletary

February



Marriage can be a tricky business, so treat it like one

"The New Love Deal: Everything You Must Know Before Marrying, Moving In, or Moving On!" by Gemma Allen, Michele Lowrance and Terry Savage.

March



Remembering Thomas J. Stanley, who redefined what it means to be rich

"The Millionaire Next Door: The Surprising Secrets of America's Wealthy" by Thomas J. Stanley and William D. Danko

April



This college admission is sorely needed

"Where You Go Is Not Who You'll Be: An Antidote to the College Admissions Mania" by Frank Bruni

The Color of Money book club
To become a member of the

Color of Money book club all you have to do is read the recommended book and join Michelle Singletary and the book's author online in a live discussion.
And don't forget to sign up for Michelle's weekly

personal finance e-letter to find out the selected title each month and read Michelle's latest tips and advice. You can e-mail Michelle at

colorofmoney@washpost.com, or write to her at:
Color of Money Book Club
1150 15th St., NW
Washington, D.C. 20071
Note: When signing up online, click the link above and scroll down the page. Click on the box for "Personal Finance." As a benefit, each month randomly selected subscribers will get a free copy of that month's book club selection.

Click here to watch Michelle answer reader questions about money and give her take on personal finance topics in the news.